Frequently asked questions
I am interested in purchasing one of your prints but want a different size, what should I do?
---
I am happy to hear you found something you love and I would be more than happy to help you. If there are certain dimensions you are looking to fill please use the contact form on the website. Be sure to include the size you want and name of the piece.
---
Do I need to be an artist to take your online course?
---
Absolutly not! I have designed the course in such a way that helps people who have suffered a loss, focus on the process rather than the final product.
---
Why do you have a online course on grief art?
---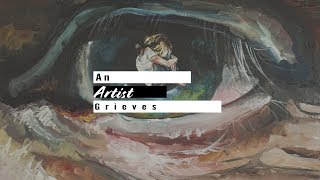 That is a great question and something I would rather share with you via video. Please click on the image to hear my story.
---
Can I use a jpg image of your work?
---
I'm happy to work with you, but please let me know first how you plan to use by using my contact form. I may have specific stipulations depending on the project.
---
Do you ship?
---
Yes I do. Shipping costs are not included in the listed price of prints.
---
---